Things to see when at Porto
Porto is the second largest city in Portugal, located by the Douro river and the Atlantic Ocean. Porto dates back to the IV century and the city center is classified as
world heritage patrimony by UNESCO
. The city is also known worldwide for the renowned
Port Wine
.

The city of Porto, built along the hillsides overlooking the mouth of the Douro River, forms a millennial urban landscape where the diversity of civil and religious architecture bears testimony to a Historic Centre dating back to Roman, Medieval, Renaissance, Baroque and Neoclassical times. Built on uneven ground in a perfect combination of road layouts, houses and the river, Porto has a unique cityscape. Porto's Historic Centre was inscribed on UNESCO's World Heritage List in 1996.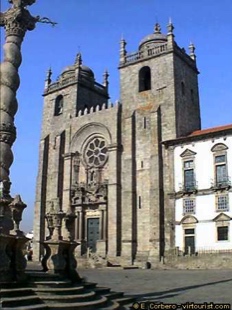 Sé Catedral (Porto Cathedral)
Located near the center of the historical city of Porto, Se Cathedral was originally a Romanesque church, but was rebuilt and redesigned some 600 years after it was built. Nicolau Nasoni altered the lateral façade of this historic church by adding a Baroque-style loggia. The cathedral is built with thick walls, semi-circular and pointed arches, and decorative arcading that all symbolize strength and massive solidity.
Location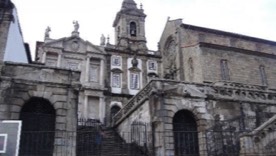 Igreja de S. Francisco (S.Francis Church)
The Igreja de São Francisco (Church of Saint Francis) is the most prominent Gothic monument in Porto, being also noted for its outstanding Baroque inner decoration.
Location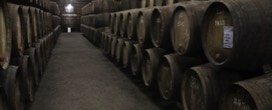 Port Wine cellars
Web site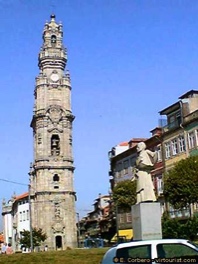 Torre dos Clérigos
Clergymen Church and Tower is a monument of the Baroque style, built between 1754 and 1763 by the Italian architect Nicolau Nasoni. From the top of the Tower, six floors and 76 metres high, after climbing an endless spiral staircase with 225 stairs, the visitor enjoys dazzling views over the city, the river Douro and its estuary.
Location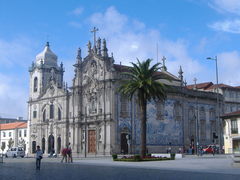 Igrega do Carmo
Carmo Church (Igrega do Carmo), built later in the 18th century, is a magnificent example of late baroque architecture with a single nave made up of elegant gilt carvings in seven altars by master Francisco Pereira Campanhã. Outside, an extraordinary side wall is completely covered in blue and white tile panels.
Location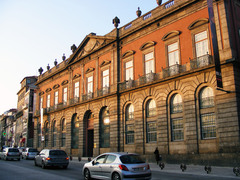 Soares dos Reis Museum
National Museum Soares dos Reis (Portuguese: Museu Nacional Soares dos Reis), located in the ancient Carrancas Palace, in Porto, Portugal, is one of the most renowned Portuguese museums. The museum Soares dos Reis, founded in 1833, is Portugal's first national museum. It displays one of the finest collections of Portuguese art, in particular a gallery of works by Portuguese sculptor António Soares dos Reis.
Web site
Location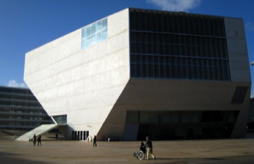 Casa da música (Music's House)
"Casa da Música" is the main Porto's music hall. Inaugurated just after the end of 2005, 4 years the Porto was the "European Capital of Culture" for which it was commissioned, has a very good all-year program both in Classical, Jazz or Pop genre. It is located in "Rotunda da Boavista" (see map) and its web page can give you all the information about its program.
Web site
Location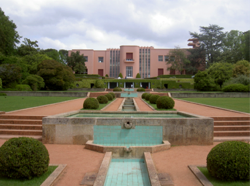 Fundação de Serralves (Contemporary Art Museum and Gardens)
The Serralves Foundation is an art foundation which mission is to raise the general public's awareness concerning contemporary art and the environment. It includes the Museum of Contemporary Art as a multi-disciplinary centre, the Park as a natural heritage site ideally suited for environmental education and entertainment activities and the Auditorium as a centre for reflection and debate on issues facing contemporary society.
Web site
Location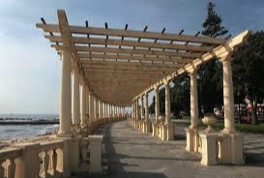 Foz do Douro
Foz do Douro, on the western side of Porto, is a privileged place, where the Douro river finally meets the Atlantic Ocean, providing wonderful landscapes, that are even better with its seaside walk, lovely and cosmopolitan esplanades, Bars and gardens, being a quite lively area during day or night time.
Foz do Douro is one of those places mentioned in several masterpieces from artists all over the centuries, and it is also classified as a Natural Heritage site for its Metamorphic characteristics, being created in 2005 the Foz Geologic Walk, as a way to preserve and promote this Rocky formation set that has a high scientific and pedagogical value.
Worth the visit in this area are the Chapel-lighthouse of São Miguel-o-Anjo, in Cantareira, the Palace and Church in the São João Baptista da Foz Fortress and the Main Church.
Location